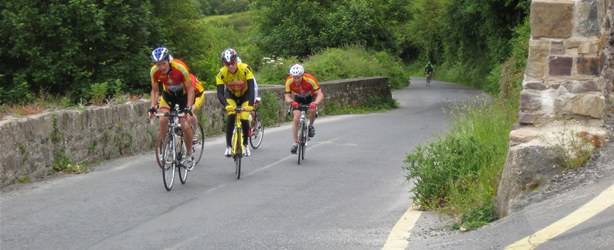 At the Carrick Wheelers' AGM in November 2010, Bobby Power proposed that the club should run a Sportive in 2011. As he outlined the details of what he proposed, club members sat straighter in their chairs as they realised that what he was proposing was a challenge that was beyond even the fittest of most cyclists. Sportives have become the holy grail of cycling with some events extending to as long as 8 hours. Bobby proposed the ultimate Irish sportive. And, as a proud Carrick person, Bobby proposed that the event coincide with the Clancy Festival – Bobby's mother Peg being a Clancy herself.
Bobby's rationale was that Carrick-on-Suir has the best training roads in the country, backed by more champions than any other region in Ireland. From Sean Kelly and Bobby Power to Sam Bennett and Michael O' Loughlin, Carrick cyclists have led the way. Tony Ryan,  Larry Power, Vincent Kelly, Raymond Power, Lenny Foley, Paddy Power, Paul Butler, Michael Woods, Brian Kenneally, Claire Moore, John O' Shea, Sinéad Lonergan, and Martin O' Loughlin have all led the way on a national stage in recent years based on a tradition of cycling excellence in Carrick. If we have the best cyclists, why not have the toughest event?
Bobby outlined the proposed route – a brutal 101 miles over every major climb close to  Carrick: Tullahought, Gap of Rathlarish, Slievenamon, Tickincor, and the Nire Valley Loop climbing the hard way to Powers the Pot  before a stop in Rathgormack. Then back to Carrickbeg, up Seskin Hill, over Mahon Falls and into Kilmacthomas. The piece de resistance in Bobby's mind was a section (after 90 miles) through Curraghmore Estate on unpaved roads, passing the ancestral home of Lord Waterford. Racing bikes have very narrow tyres, unsuited to these roads. We only see cyclists racing over them in the Tour of Flanders and Paris – Roubaix.
Six months later, on May 13th 2011, Bobby Power passed away after a long and difficult fight with illness. For his family, his friends and former work colleagues in Showerings, Bobby's passing was an indescribable loss. Led by Bobby's son Cian, Carrick Wheelers had an opportunity to pay tribute to our former Chairman, Coach and PRO. So, the Carrick Wheelers Challenge Sportive became Bobby Power's Carrick Wheelers Challenge Sportive.
On the day, 130 cyclists signed on at 7.30am in Carrick. As was Bobby's vision, only 75 made it back. Over 40 club stewards were present to make it safe for all participants. Club members travelled from Cork, Limerick and Dublin to stand on road junctions with a flag and a whistle. Some started at 9.00am and finished at 6.00pm. Seasoned 'Sportive' participants from all over Ireland proclaimed the event as the best Irish event ever. With the roads and scenery of South Tipperary, Kilkenny and Waterford, how could we go wrong?
Four riders from the Netherlands have already entered for 2012. Clearly, Bobby Power has pointed the way to promote Carrick, cycling and tourism into the future.
Carrick Wheelers would like to thank the  Civil Defence, Rathgormack Hiking Centre, Carrick Swans GAA Club, Lord Waterford, and Tipperary SR, Waterford and Kilkenny County Councils. Most importantly, we thank most sincerely the Power family for allowing us to honour our Captain in the only way we know how.
Check out some fantastic pics of the event by Joe Cashin at: http://www.youtube.com/watch?v=a1BjaqEl8H8