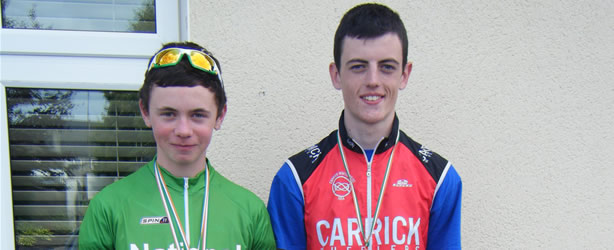 Roscommon was the venue for the 2011 All-Ireland Youth Cycling Championships. The events started with a 7km time trial from Roscommon town to the village of Castlecoote. Often known as the 'race of truth', the individual time trial removes tactics from the equation and rewards the strongest riders. With a strong headwind all the way, conditions were tough.
Sean Hahessy of Carrick Wheelers entered the under 16 event with two wins to his credit in the past month. And he didn't let his supporters down by claiming the bronze medal, just seven seconds behind the winner Dylan Foley from Cork, with Westport's Chris Kennedy taking silver.
Michael O' Loughlin started the under 14 time trial as the clear favourite. With 20 wins already this season, he has dominated Irish cycling this year. True to form, Michael won by a comfortable margin of 20 seconds from Ballymena's Aaron Swan, with Declan Mulholland from Lurgan third, a further 10 seconds behind.
Onto the evening road race championships. With a course that wasn't too taxing, bunch finishes were the order of the day. Specialist sprinter Mulholland edged out O' Loughlin for the gold medal, with Sean Hahessy finishing mid-pack in his race.
On Sunday, the criterium races were held in Roscommon town. Michael O' Loughlin's luck finally ran out when a heavy rain shower made the corners lethally slippy. After a very aggressive start, O' Loughlin, Swan and Mulholland had forged ahead and were lapping the weaker riders. O' Loughlin made his bid for solo victory at the midpoint of the race. But, he lost traction on a roundabout, and fell heavily. No bones broken, but game over on the day.
Despite professing to hate town centre racing, Sean Hahessy matched the best in the country for the entirety of his race, but lost out in the kamikaze dive for the last corner. However, both young men from Carrick Wheelers can look back with satisfaction on a great season where they experienced success in all four provinces.