Carlow's Joe Fenlon just holds off Martin O'Loughlin (Iverk Produce Carrick Wheelers) to win The 2012 National Veteran Cycling Championships in Clonmel.  Photo by John Troy.
Iverk Produce Carrick Wheelers rider Martin O'Loughlin took an excellent second place in last Saturday's National Veteran Cycling Championships held in Clonmel.  O'Loughlin, a winner of this event on two previous occasions, made use of his good form of late to claim the silver medal in the all-Ireland event.
The Championships, which was promoted by Clonmel CC, was held over 11 laps of a 10km circuit, with almost 100 riders lining-up on the start line to participate in the event.
As the race unfolded a leading duo of Greg Swinand of Joe Fenlon, forged ahead of the main bunch, maintaining a slim advantage of 30-50secs as the laps ticked down.  In the closing kilometres however, a game of 'cat and mouse' took place between the leading pair and as a result the peleton were quickly closing the gap.  It was then in the final few hundred metres that O'Loughlin made his blistering move.  The Carrickbeg man attacked out of the main field and powerfully sped across to the leading duo just reaching their coattails with 300m to go.  As the finishing line approached, coincidently located just outside O'Loughlin's place of work at the Presentation Secondary School, the Carrick Wheelers rider made his bid for glory as he kicked for the chequered flag.  However Fenlon, having himself finished in the runners-up spot last year, was determined that it was going to be his day as he gave it everything to claim the title just edging past O'Loughlin before the line to win it by just half a wheel length, with Carrick's O'Loughlin second, and Swinand holding off the fast finishing bunch for third place and the bronze medal.
Amazingly, all three medallists have strong connections to the famous Carrick Wheelers Cycling Club.  Fenlon a Carlow native rode for the club for the best part of a decade, Swinand rode this year's An Post Rás as part of the Iverk Produce Tipperary Team and O'Loughlin of course a club stalwart on and off the bike for over twenty years.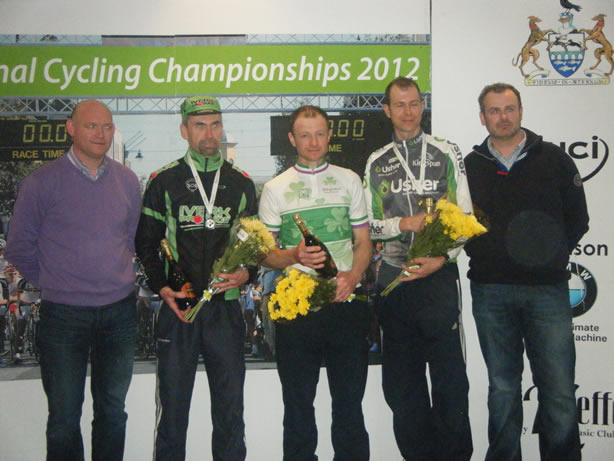 In Sunday's Elite Mens Race it was three professionals who took away the medals as Matt Brammier made it three wins in-a-row, crowd favourite Nicolas Roche took second and Philip Lavery, whose father Tosh is a local Waterford man, claiming the bronze.