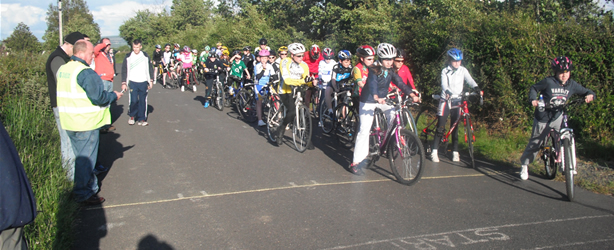 Are you a boy or girl aged from 10 to 16 years? Would you like to try cycle racing?
Iverk Produce Carrick Wheelers will once again promote our Beginners and Underage League in May and June this year. It will run for 6 weeks commencing on Monday evening 13th of May In Faugheen village, Carrick-on-Suir. All that participants need is a roadworthy bicycle and a helmet.
2013 is the 6th year of this league which has been generously sponsored since the beginning by Ó Ceallacháin's Bar and Bistro. In 2010, the South Tipperary Sports Partnership also came on board and the final race of the series was held in National Bike Week for the last three years.
There will be two races each week – 1 lap and 3 laps of a safe 2.2 miles circuit used for the 'Faugheen 50' race. Registration takes place at 7pm, with racing beginning at 7.15. All racing will end at approximately 8pm.
The handicapper has a knack of ensuring that a number of riders will still be in contention for overall honours up to the final week of the league. Week 1 will be an individual time trial, and the other 5 weeks will be road races. To facilitate those who may have to miss one event, the best 4 performances will count for points.
Please note that for insurance reasons, no under 10s are permitted to race on the open road.
Both Sean Hahessy and Michael O' Loughlin who have raced in the league have gone on to captain the Irish National junior and youth squads abroad.
As the event is generously sponsored, entry is free. All that is required is a roadworthy bicycle and a helmet. Iverk Produce Carrick Wheelers even has a limited number of racing bikes which we will loan to promising cyclists who are interested in racing. So, on Monday evenings, Faugheen is the place to be.
For safety reasons, parents and supporters are requested that once they drop their children off at registration, they then move their cars off the race circuit. Only race lead cars can be permitted to park in the last kilometre.
For further information, contact John on 087 2355753 or see www.carrickwheelers.com.