After many years in Mosney, the HSE Community Games National Finals moved to Athlone in 2009. Although the track was different and the competitors were stronger, Michael O' Loughlin overcame the odds to win an unprecedented third title in a row in the Boys Under 14 2km Cycling on Grass race.
The Community Games race is an exciting event with 10 'Hot Spot' sprints (2 per lap) and double points for the final sprint. 
Going in the first semi-final on Saturday, Donegal's John Noel Devenney had a super start, quickly opening a 30 metre lead. As the first four would qualify, Michael made second place his own and wisely decided to save his energy for Sunday's final.
Riders have their gear levers disabled in this race, so gear selection is crucial. For the final, Michael decided to push a higher gear. This proved to be a very good move.
Once again, the young lad from Donegal made the best start, and stayed clear for two of the six laps, taking maximum points in three sprints. Michael was 3rd in all three. However, Limerick's Shane O' Hara and Michael chased him down with an exciting 3 man sprint for the fourth sprint which Michael won by a few cms.
Seizing the initiative, Michael never slowed after the sprint and opened a 10m gap on the tailwind section. Turning into the wind, he used his time trialling power to gradually open the gap to 50m and holding all the way to the finish line. Shane O' Hara and John Noel Devenney were second and third, with Carlow's Jason Kelly in fourth place.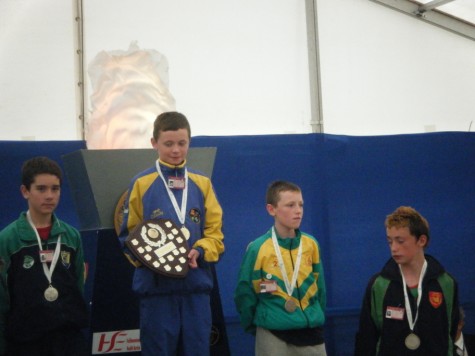 (L-R): 2nd Shane O' Hara (Limerick), Winner Michael O' Loughlin (Tipperary), 3rd John Noel Devenney (Donegal), 4th Jason Kelly (Carlow).
To win the boys race 3 years in a row is unprecedented. Michael is underage for this event next year. He adds this title to his gold in the All-Ireland U12 Time Trial and silver medals in the All-Ireland Road Race and Criterium. Well done to Michael from everybody in the club