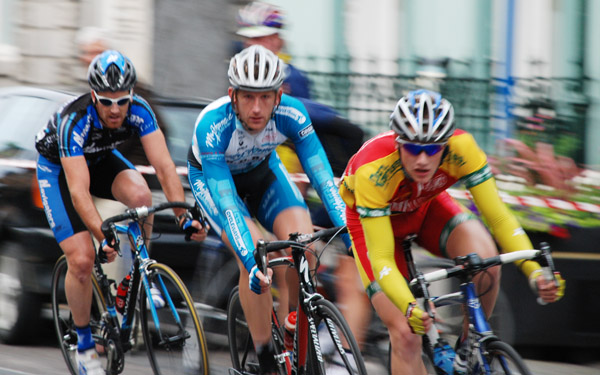 By Bobby Power
Fifty five years ago Carrick Wheelers cycling club was formed, and the club's first major promotion was the Kiely Cup which was held on St. Patrick's Day, 1954. That started a tradition of cycle racing in Carrick on St. Patrick's Day, and was a significant step on the way to making the town of Carrick synonymous with cycling throughout Ireland.

That tradition has continued to this day, but the 2008 version of the race will be known as the Carrick Cabs Cup and be promoted by Dan Morrissey Carrick Wheelers. Yes, sponsorship is very much part of all sports in today's world, and while "Dan Morrisseys" of Carlow have been the main sponsor for a number of years now, the club are delighted to announce that local businessman Liam Hanrahan is the new sponsor of our St. Patrick's Day race under the title of The Carrick Cabs Cup. In fact, Liam will again be sponsoring our other major promotion, the Tommy Sheehan Memorial race, following the success of his involvement with last year's event.
The route for the Carrick Cabs Cup will be the traditional one of three laps of the Glenbower circuit giving the riders a total of 100 kilometres. Racing will start and finish at the top of Sir Johns Road for safety reasons, and then proceeds to Glenbower, where the riders will swing left to Kilheffernan roundabout and left again back through Kilsheelan and into Carrick for the tough uphill finish at the end of the third lap.
There will be two separate races on the day, with the main event for the first and second category senior riders starting at 1.00 pm, while a separate combined race for third category seniors, juniors and veterans will start at 1.10 pm, also covering three laps of the same circuit.
Selecting a possible winner of either event is very difficult so early in the cycling season, but local riders are bound to be prominent and be highly motivated in front of their friends and families. Dan Morrissey Carrick Wheelers rider Rory Wyley was beaten into second place by Piltown's Brian Kenneally last year, and will be hoping to turn the tables this time, but the combined race could well turn out to be the most interesting race of the two!
Last year's winner was the club's own veteran star Martin O'Loughlin, who went on to score a memorable victory in the Veteran's All Ireland Championship later last year. Now resplendent in his national champion's jersey, he already has a victory under his belt this year and will be all out to defend his crown. However his biggest challenge is likely to be his protégée and team-mate Sam Bennett whom he coaches, and although still only in the junior ranks, Sam looks set to be big star in Irish cycling and possesses a fearsome finishing sprint. Add to this another star veteran of the club and former winner of this event, Leslie O'Donnell and we have an intriguing race in store!
Safety is all important in any sporting event, but particularly in road cycle racing on today's busy roads, and so the club are deeply indebted to the Gardai and the local Civil Defence for their co-operation and help on all our race promotions. We would ask any locals driving in the area of the race to play their part in making the racing safe for everyone, and then all we would need is a local winner of both races, that would be the ideal result for the first Carrick Cabs Cup!