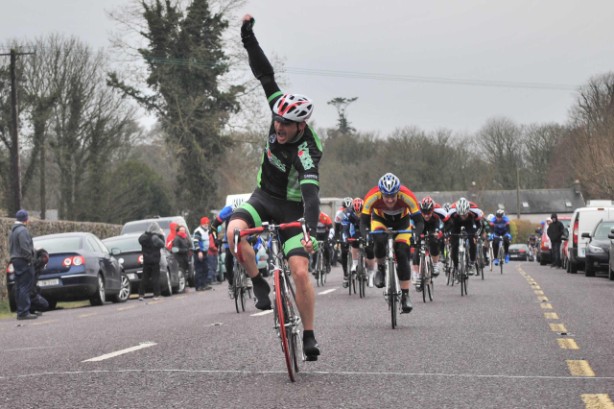 Paul Bourke of Iverk Produce Carrick Wheelers claimed the first senior win of his cycling career, as he sprinted to an exciting victory in the 4th Category Race at the Silver Pail GP held in Fermoy at the weekend.  Bourke, originally from Lissadober just 2miles outside Carrick-on-Suir, recently returned to the sport of cycling after an absence of over 20 years, and amazingly claimed his first ever victory in the same event as an U12 way back in 1987! 
Bourke, now 37, has had an interest in the sport since his childhood, as his father, Billy Bourke, competed in a couple of Rásanna in the early 1960s as part of the successful Tipperary Team.  However, in recent years, Bourke, who now lives in Carrickbeg, like so many others, fell victim to our recession and found himself out of work and consequently, had much more time on his hands.  But as the old saying goes, 'As one door closes another one opens', and that's exactly what Paul did.  He went out to his shed, opened the door, dusted off his old racing bike and began training once again.  Subsequently, or as they say 'one thing lead to another' and Paul found himself lining up at the start line of cycling races in 2013.  After a number of top 10 results, including an impressive 8th place in his hometown race on St. Patrick's Day and  7th place last weekend in Rathdowney, things were certainly looking good for Iverk Produce Carrick Wheelers latest comeback kid!
The race itself consisted of 3 laps of a 20km circuit and, as is our blessing here in Ireland, each lap contained wind, rain and sunshine for the competitors.  As the race progressed it became a 'war of attrition' of sorts and of the 100 strong field of competitors that took to the start line, a group of 50 or so remained in the final kilometres.  It was then that Bourke, with the confidence from his previous results, began to position himself for the bunch sprint finish.  With approximately 500m to go Paul moved up along side the leaders, and then at the 250m marker made his winning move, as he sprinted to a brilliant victory.
Paul's comfortable winning margin allowed him time to throw one arm in the air, as he savoured his victory on what was a very special and exciting day for the popular Carrick Wheelers man.
A4 Race
1 P Burke (Iverk Produce Carrick Wheelers)
2 D Halligan (Comeragh CC)
3 M Black (Aquablue)
4 K Sheehan (Bandon CC)
5 D Stenson (Lucan CC)
6 N Ryan (Bandon CC)
7 M Crowley (Planet Tri)
8 R Carey (O'Leary's Stone Kanturk)
9 E Dunne (Iverk Produce Carrick Wheelers)
10 P Murphy (Unatt)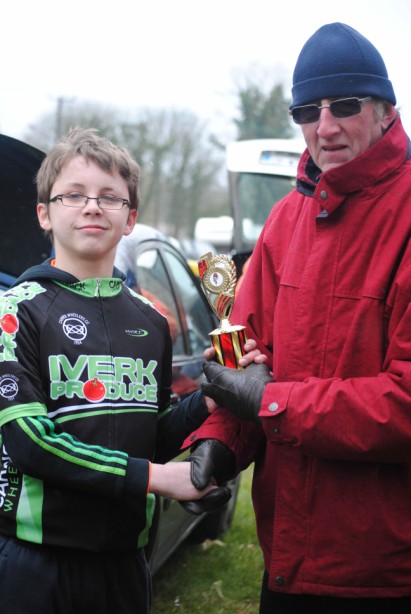 Photos by Karen Dunne.