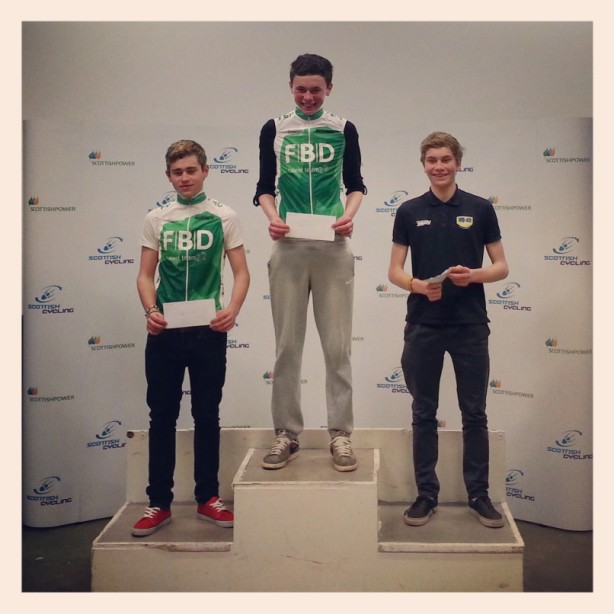 Iverk Produce Carrick Wheelers under-age talent Michael O'Loughlin opened his 2013 account with an impressive win at the International Tour of Scotland last weekend. The young Iverk Produce Carrick Wheelers rider participated in the event as part of the CyclingIreland Talent Team 2020. The Talent Team was assembled a number of years ago by the national cycling federation, with the aim of giving Ireland's most promising under-age talent the best possible support in developing their ability, with the ultimate aim of attending the 2020 Olympic Games, as their goal.
O'Loughlin, a member of the set-up since its inception, was only one of three Carrick-on-Suir locals attending the event, as the squad manger – Martin O'Loughlin, and Team Mechanic – Joe Hahassy, also hail from the south east's famous cycling town.
The event itself, consisted of 4 stages over 3 days, and was held in the Scottish town of Perth, and it was on the final stage of the four, where O'Loguhlin was victorious. Having performed well all weekend O'Loughlin found himself as part of a three man leading break-away move on the final day, and it was from there he would go on to take the victory. Once these three leaders knew they had established a decent lead, they worked well together and made it all the way to the finish with about a 30sec advantage over the chasing peleton, where O'Loughlin opened up his finishing sprint to comfortably take the victory over his team mate Jake Gray, with the English rider Alex Braybrooke coming home in third. Incidentally, Gray, also a member of the Irish Talent Team, from county Tyrone, went on to win the event overall, rounding up a very successful weekend for the Irish team.
O'Loughlin's next target will be the Kanturk 3-Day, an event which is a selection race for the 2013 Youth Olympics. There is no doubt that a triumphant season is only beginning for the young Iverk Produce Carrick Wheelers star.
For a detailed account of the Talent Team's Youth Tour of Scotland check out:
http://www.stickybottle.com/latest-news/irish-schoolboys-smash-and-grab-delivers-big-spoils-at-youth-tour-of-scotland/