Iverk Produce Carrick Wheelers rider Hugh Mulhearne took an amazing victory this weekend winning the 2013 National Veteran Cycling Championships in Louth.  Mulhearne, a native of Kilmacthomas, Co. Waterford, won the event in a two up sprint for the line, getting the better of the Irish American Greg Swinand of the Dublin based Irish Road Club.
Having just turned 40 this year, Mulhearne became eligible to ride the in the veteran's grade and was hotly tipped as being one of the favourites to win the title, given his victories in the National Elite Track Championships last year.
Despite the added pressure of being amongst the favourites, the Carrick Wheelers man, rode the perfect race, staying to the fore of affairs during the opening laps and placing himself among the main break-away group of the day at the at the beginning of the third lap.  As the race progressed this 10-man leading group opened up a sizable advantage on the rest of the 134 rider main field.  These leaders worked well together once the gap had been established and with most of the pre-race favourites included, such as last year's winner Joe Fenlon and 2012 bronze medal Greg Swinand, as well as Mulhearne, it was clear that an outright winner would come from this 10 rider selection.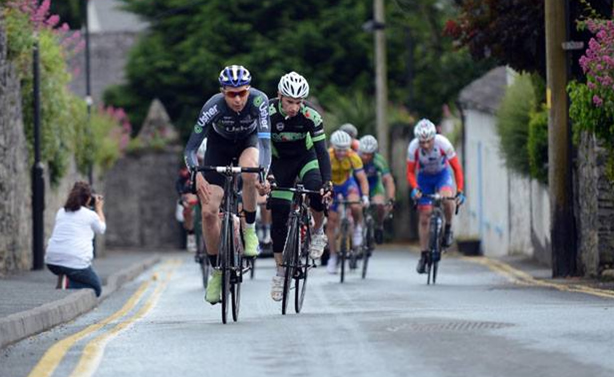 As the race got into the business end of things, it was Swinand who made a bid for a solo victory attacking his break-away companions with two laps to go.  While Swinand was successful in distancing himself from most of his rivals, there was one who just wasn't about to give up and Hugh Mulhearne set off in pursuit.  Mulhearne was strong enough the bridge the gap across to Swinand, making it a leading duo entering the final lap.  Swinand, knowing Mulhearne's strength in the finishing sprint, made many attempts to shake off the Carrick Wheelers cyclist, but Mulhearne had simply peaked his form to perfection and this was going the be his day.  As the leaders approached the final few hundreds metres Mulhearne took matters into his own hands.  Knowing some chasing riders were beginning to close again on the leading duo, Hugh excitingly lead out the sprint for the chequered flag and lead all the way to the finish line, where the proud Waterford man raised both hands in the air to take the title of 2013 National Veteran Cycling Champion and a precious All-Ireland gold medal.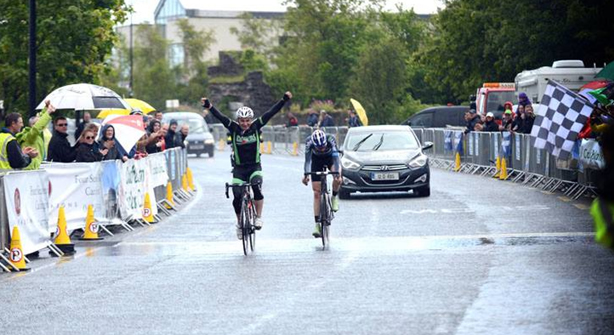 Afterwards, Mulhearne spoke of his delight, thanking his team-mates and team back-up personnel for what he described as 'totally professional support and approach to the race' and was truly overjoyed with this brilliant victory and national title.