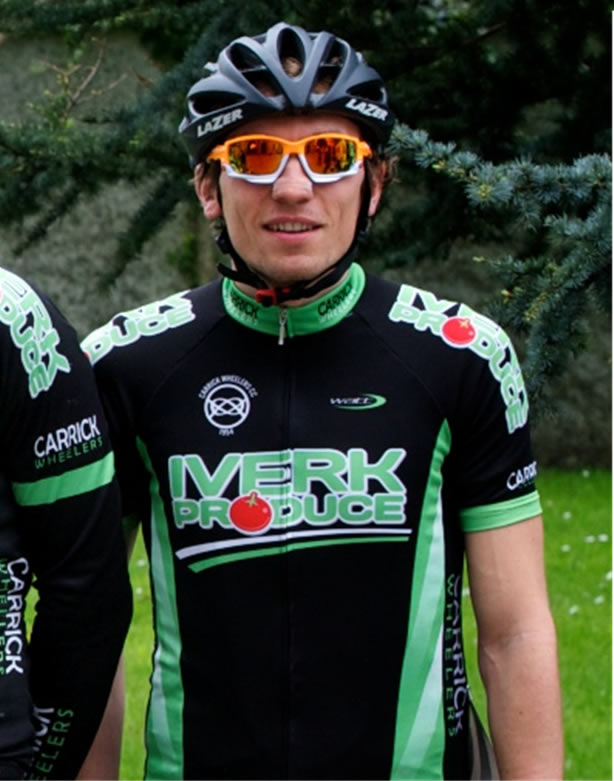 Iverk Produce Carrick Wheelers rider Martin Mizgajski successfully defended his Wexford County Road Race title this weekend, soloing to a brilliant victory in Bunclody on Saturday.
The testing event in the Model County attracted over 60 riders and whatever your sport of choice in Ireland, be it GAA or cycling, county medals are always something to be sought after.
The race was run on a handicap basis with the riders from lower categories being given a slight advantage on the scratch group.  However, that advantage was quickly swallowed up by the scratch group and by the end of the first of three laps, the race was largely together.
And so the attacking began, with well-known Wexford cyclist Martin Gill (Wexford Wheelers) and Mick Doyle (Barrow Wheelers) were to the fore amongst the early movers, but no moves of any real consequence took shape as the pace stayed high.
On the second of three laps Mick Doyle was again to the fore and he broke clear with Anthony Doyle (U/A), with that pairing opening a 30-second gap on the field.
Behind them, Shane Kelly (Slaney CC) attacked the field in pursuit of the leaders but after around half a lap he was caught, as were the two leaders, setting the race up for an attacking finale on the third and final lap.
It was here on the final lap that the Iverk Produce Carrick Wheelers man made his winning move, attacking his rivals hard in the closing stages. Even though, the strongest of those in the main field tried to go after him, he eventually managed to get clear and take a solo win by around 20 seconds from Conor Crowley (Slaney CC) and Martin Gill (Wexford Wheelers) taking 3rd.
This is another excellent victory for Carrick Wheelers only New Ross resident having also won the Wexford County TimeTrial Championships last Thursday evening, in addition to winning this event in 2012 also.
Wexford County Championships
1st Martin Mizgajski (Iverk Produce Carrick Wheelers)
2nd Conor Crowley (Slaney)
3rd Martin Gill (Wexford)
1st Vet Dave Whitty (Barrow)
A2
1st Conor Crowley (Slaney)
2nd Martin Gill (wexford)
3rd Patrick O'Brien (Orwell)
Unplaced Vet Dennis McCarthy (Slipstream)
A3
1st Dave Whitty (Barrow)
2nd Dermot Gregan (Slipstream)
3rd Jamie Busher (Orwell)
Unplaced Vet Mick Doyle (Barrow)
A4
1st James Maddock (Wexford)
2nd Nigel Allen ( Wexford)
3rd Martin O'Connor (SERC)
Unplaced Vet Calium Ryth (Slaney)