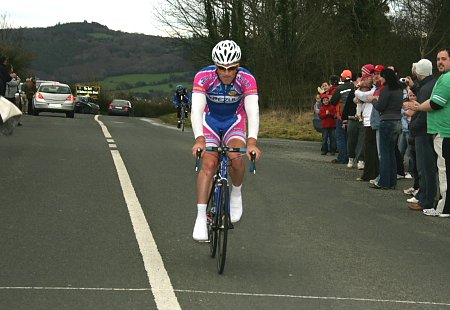 Double Olympian Ciaran Power of the professional Pezula Racing team made a triumphant return to Ireland after a month in South Africa by comfortably winning the Carrick Cabs Cup in Carrick-on-Suir on St. Patrick's Day.

 

 

Power was in the thick of the action from the first of the three 21 mile laps. He helped initiate a breakaway of 12 riders after the race split on the first ascent of Glenbower. This group also included Rory Wyley, Michael Fitzgerald, Joe Fenlon and Mark Power of Dan Morrissey Carrick Wheelers, Ray Clarke of Worldwide Cycles Clonmel, Robin Kelly of Comeragh CC, Sean Lacey of Eurocycles, Micheal Concannon of Killorglin and professionals Paul Griffin of Giant Asia and Power's team mate Derek Burke from Tuam.

 

The leaders worked well together and established a three minute advantage over the main field. On the second time up Sir John's Hill, Sean Lacey attacked and the lead group was whittled down to eight. Further attacks saw Power go clear with Griffin. The Waterford man showed his class by forging ahead on the climb to the finish. His team mate Derek Burke was third, making it a 1, 2, 3 for the professionals.

 

In the Carrick Cabs Combined Race over the same distance, Dubliner Andre Engerman and local riders Sam Bennett and Martin O' Loughlin of Dan Morrissey Carrick Wheelers went on the attack once the flag was dropped. They had a gap of 50 seconds for two of the three with a 15 man chasing group doing everything to bring them back. They persevered with their effort to eventually finish four minutes ahead.

 

Martin O' Loughlin was too strong for his breakaway companions up Sir John's Hill for the final time and had a handful of seconds advantage at the finish over Engerman and Bennett. He was clearly happy to retain the cup wearing his shamrock national champion's jersey on St. Patrick's Day. This reversed the previous day's result in the Des Hanlon Combined Race in Carlow where 17 year old Sam Bennett outsprinted Philip Lavery of Eurocycles and Martin O' Loughlin to retain the cup in one of Ireland's most prestigious races.

 

The action next weekend switches to Kerry for the Four Day International Ras Mumhan. Dan Morrissey Carrick Wheelers will have no less than ten riders competing while Sam Bennett travels to Belfast for the Tour of the North on the Irish National Junior Team.
Results: Elite Race
1. Ciaran Power (Pezula Racing) 2. Paul Griffin (Giant Asia)  3. Derek Burke (Pezula Racing)  4. Sean Lacey (Eurocycles)  5. Robin Kelly (Comeragh CC)  6. Micheal Concannon (Killorglin CC)  7. Ray Clarke (Worldwide Cycles, Clonmel  8. Rory Wyley (Dan Morrissey Carrick Wheelers)
Combined Race
1. Martin O' Loughlin (Dan Morrissey Carrick Wheelers)  2. Andre Engerman (St. Tiernan's CC)  3. Sam Bennett (Dan Morrissey Carrick Wheelers)  4. Sean McIlroy (Dan Morrissey Carrick Wheelers)  5. Martin Phillips (Limerick CC)  6. Geoffrey McNamara (Clonmel CC)