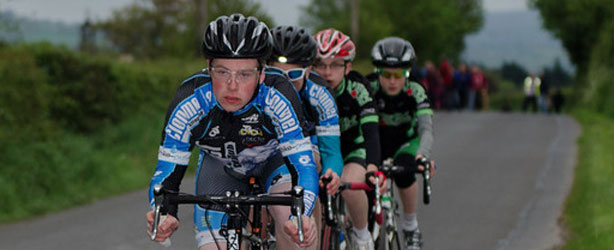 2014's Beginner's League got underway last Monday (12th May). In this the eighth year of running of the Beginner's League Racing out in Faugheen, the weather was a soft day in Irish Meteorological Terms. Driving rain and strong winds greeted the thirty brave riders with open arms. As is customary, the opening night is a one lap/2.2 mile time trial around the three cornered Faugheen 50 circuit. Generally the time trial is used to separate the men from the boys as the saying goes, but on this night for all nights they were no boys as all times were blisteringly fast. It's expected that all thirty riders will take part in the three lap event, making the one lap event now redundant. A great sign of growth and talent for the youngsters.
Setting a slick time on a slick night was Ciaran O'Sullivan, who was fastest around the short circuit, setting a time of 5:35. Second fastest on the night was Cian O'Keefe, pipping Mark Whittle by a bare second into third fastest. Special mention must go to Corey Kelly, who cornered like Cavendish  on the slippy left handers. Christopher Maher, son of clubman Vinny who suffered a great deal of bad luck, proved that the number 13 is just superstition and set to work pummelling the pedals.
Thirty riders braved the elements this Monday, but as the summer evenings ripen into gorgeous weather, we hope to see more and more. Anyone who missed the first evening but would still like to try their hand at light-hearted bike racing are still very much more than welcome. All you need is your bike and your helmet. Good weather is optional but fun is guaranteed.
1. Jake Hanrahan – 8.47
2. Craig O'Brien – 8.20
3. Luke Dunne – 7.19
4. Daniel Browne – 6.18
5. Eoin Lanigan – 7.11
6. Eva Brennan – 6.56
7. Jack O'Donoghue – 7.37
8. Corey Kelly – 6.20
9. Mark Whittle – 5.49
10. Joseph O'Dwyer – 7.24
11. Conor McGrath – 7.39
12. Ben Kinsella – 7.39
13. Christopher Maher – 8.32
14. Amy Kinsella – 8.45
15. James Comerford – 8.01
16. Kieran Flyyn – 6.53
17. Ciaran O'Sullivan – 5.35
18.  Brandon Walsh – 6.32
19. Ciarán Walsh – 8.30
20. Killian McHale – 7.20
21. Thomas Parle – 7.11
22. Darragh Whelan – 7.58
23. Patrick O'Loughlin – 7.42
24. Darragh Hanrahan – 9.15
25. Dara Kelly – 9.16
26. Cian O'Keefe – 5.48
27. Daniel Jackson – 6.07
28. James Roche – 5.53
29. Sam Hartley – 7.52
30. Lee Nolan Bolger – 7.26