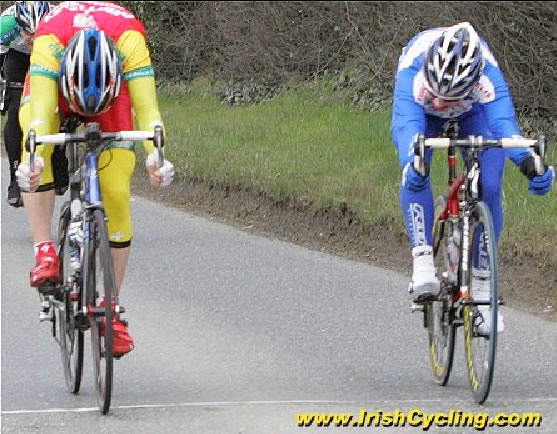 SAM BENNETT OFF TO A WINNING START
Its been a hectic few weeks for up and coming cycling star Sam Bennett of the Dan Morrissey Carrick Wheelers team.Two weeks ago he was in Ghent, Belgium with the Irish junior squad for a few days training and racing on the track cycling veledrome. This was great experience for him but culminated with a high speed crash for Sam, splitting his helmet and needing a visit to hospital before he got the all-clear and was allowed resume some easy training.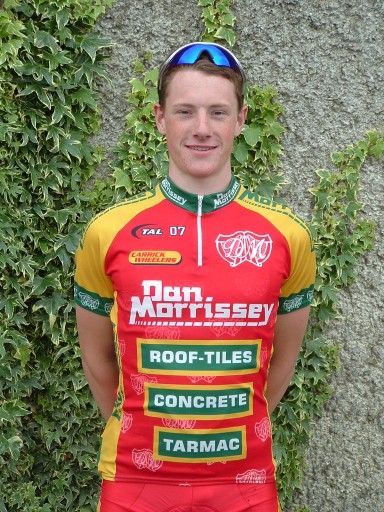 The enforced rest allowed him time to travel to Dublin's Mansion House to collect one of the highly prestigeous Irish Examiner Junior Sports Awards for his cycling exploits of 2007. Interestingly one of his fellow recipiants was boxer John Joe Nevin, who last weekend qualified to represent Ireland at this years Bejing Olympics.This gives an idea of the standard of the award recipiants, and shows how highly Sam is regarded among Ireland's young sports stars.
Sunday last got his road racing season off to a flying start when he took his place among the 130 competitors in Navan, Co. Meath in the combined Junior / veteran / third catagory senior event over 55 miles. The racing was fast and furious from the off, with the best juniors in the country all anxious to impress the national team selectors who were keeping a close eye on proceedings. No group could escape the main field for long because of the high speed of the bunch, but on the last lap five riders, including Sam, broke clear in what proved to be the winning move. As the leaders neared the finish Sam launched a devastating sprint with just 250 yards to go and looked all over a winner but had underestimated the strengh of the strong headwind. He was losing speed approaching the line but just held off the fast finishing Philip Lavery, giving Sam his first win for 2008 and also some more valuable experience for the future.  Afterwards Sam was named on the Irish Junior team which is being allowed into the upcoming Tour of the North, an international senior event in April, and as part of his preparation he will be competing with his Dan Morrissey Carrick Wheelers team-mates in the senior race for the Mick Cahill Memorial Cup in Banteer, Co. Cork on Sunday next.
The rest of the team also had some great results in other events over last weekend, with two of them finishing on the podium in their events. Martin O'Loughlin followed up on his great win in the Lacey Cup in Tralee with a fine third place in the senior event in Navan. As national veteran champion, Martin could have opted for the combined event but instead decided to take on the seniors, and showed that he can still mix it with the best with a fine third place behind Dublin's Peter Hawkins and Tralee's Sean Lacey. Another of the club's top veterans Leslie O'Donnell got his season off to a flying start when he also finished third in a open senior race in Broadford, Co. Limerick on Sunday behind winner Brian Quinn of Limerick CC and Aidan Engerman of St. Tiernans.
So all in all a great weekend for the local team, and with the clubs own big promotion the newly named Carrick Cabs Cup on St. Patricks Day coming up, things are setting up nicely for a great days racing in Carrick and hopefully another victory for Dan Morrissey Carrick Wheelers.         
Race reports on IrishCycling.com:
http://www.irishcycling.com/publish/news/art_2834.shtml
 Photos of the Senior 1 & 2 race in Navan:
http://www.irishcycling.com/publish/news/art_2835.shtml
 Photos of the Combined race in Navan:
http://www.irishcycling.com/publish/news/art_2836.shtml
And finally, photos of the Cycling pursuits cup in Limerick: