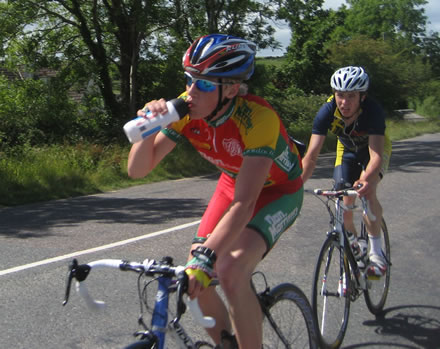 Congratulations to Sam Bennett who today claimed his first (but no doubt not the last!) Irish Road Racing championships from Mayo's Charles Prendergast in a thrilling race.  Sam was not listed as a favourite in some quarters (you know who you are !) but for those in the know i.e. those who had seen him dominating a field of A riders in the Waterford leagues during his exams and more recently destroy a field of A riders in Currow (not the first A race he has claimed this year), there was no doubt where the smart money would be going.
Sam got in an early breakaway of 6 or 7 riders and made several attempts to go clear but he was a marked man and all the moves were rapidly covered. This group stayed away for the entire race with the chase behind containing some of the favourites panicking and failing to get organised. It came down to the last lap and with with the finish in sight the situation was grim, a rider had gone 150m clear with a kilometer to go, but Sam rallied to end up taking the sprint by a distance. Well done Sam, you have done yourself and the club proud.
Meanwhile in the senior race, Mark Power, Micky Fitz, Joe Fenlon, Diarmuid Carew and Cathal McCarthy accquitted themselves well, finishing in the bunch in a gruelling race won by Daniel Martin.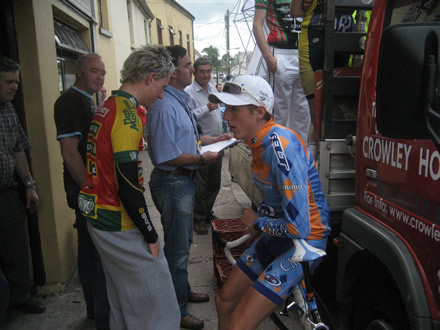 Sam with Daniel Martin. You are looking at the future of Irish Cycling right here. Take note !
Hopefully better pics and a race report to follow…
Also, some pics of the senior event……..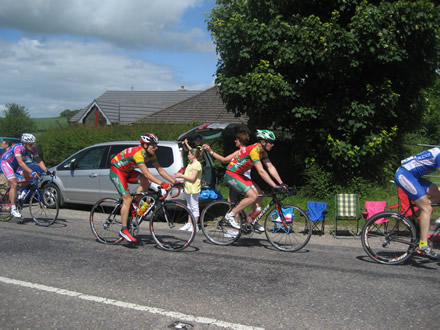 Mark Power & Joe Fenlon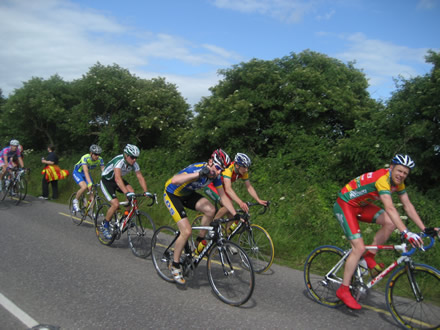 Cathal McCarthy & Diarmuid Carew