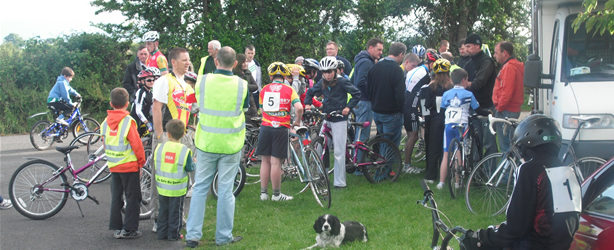 Bright sunny conditions greeted competitors for the penultimate round of the Ó Ceallachains League. Newcomer 10 year old Darragh Whelan from Coolnamuck blitzed around the course on a bike with 14 inch wheels, recording an amazing time of 10 minutes 12 seconds. Sam Hartley recovered from a disappointing race last week to sprint in second, ahead of Aisling McCarthy with Thomas Parle, Luke Dunne and Niamh O' Loughlin completing the top six.
Ben Cooney was a clear winner of the 3 lap race. Corey Kelly rode strongly throughout to finish second ahead of Jack Conroy. Elizabeth Moloney did well to hold off the challenge of Clerihan's Daniel Browne for third place.They were followed over the line by Dean Wall and Aaron Aylward.
The league tables are below. However, all can change in the final week, as the best four results will be collated to calculate our winner. Cycling Ireland President Rory Wyley will be in Faugheen to put his skills as an accountant to good use so that all the sums are right on the night. Our sponsors Ó Ceallacháins will once again be generous with prizes galore. Hopefully, representatives from the South Tipperary Sports Partnership and South Tipperary County Council can make it as well. See you there!
Ó Ceallachains League Table – 1 Lap
| | | | | | | | |
| --- | --- | --- | --- | --- | --- | --- | --- |
| Name | Wk 1 | Wk 2 | Wk 3 | Wk 4 | Wk 5 | Total | Position |
| Shay Butler | 43 | 37 | 0 | 0 |   | 87 | 9th |
| Kari Campbell | 35 | 0 | 50 | 0 |   | 85 | 10th |
| Killian Crowley | 40 | 38 | 0 | 0 |   | 78 | 12th |
| Luke Dunne | 47 | 43 | 43 | 42 |   | 175 | 1st |
| Roisín Dunphy | 41 | 41 | 41 | 40 |   | 163 | 5th |
| Katie Fleming | 37 | 50 | 47 | 38 |   | 172 | 2nd |
| Sam Hartley | 39 | 0 | 40 | 47 |   | 126 | 8th |
| Jack Hickey | 42 | 47 | 0 | 39 |   | 128 | 7th |
| Liam Kelly | 45 | 39 | 0 | 0 |   | 84 | 11th |
| Aisling McCarthy | 36 | 42 | 45 | 45 |   | 168 | 3rd |
| Niamh O' Loughlin | 38 | 45 | 42 | 41 |   | 166 | 4th |
| Thomas Parle | 50 | 40 | 0 | 43 |   | 133 | 6th |
| Darragh Whelan | 0 | 0 | 0 | 50 |   | 50 | 13th |
|   |   |   |   |   |   |   |   |
3 Lap League Table 
| | | | | | | | |
| --- | --- | --- | --- | --- | --- | --- | --- |
| Name | Wk 1 | Wk 2 | Wk 3 | Wk 4 | Wk 5 | Total | Position |
| Michael O' Loughlin | 50 | 38 | 34 | 35 |   | 157 | 1st |
| Kyle Crotty | 36 | 50 | 28 | 38 |   | 152 | 4th |
| Niall Dempsey | 47 | 36 | 26 | 39 |   | 148 | 8th |
|  Aaron Kearney | 43 | 39 | 35 | 36 |   | 153 | 3rd |
| Conor Murphy | 37 | 45 | 0 | 26 |   | 108 | =18th |
| Killian McHale | 38 | 42 | 42 | 28 |   | 150 | =6th |
| Conor Power | 40 | 40 | 33 | 25 |   | 138 | 13th |
| Corey Kelly | 31 | 47 | 30 | 47 |   | 155 | 2nd |
| Dean Wall | 45 | 29 | 36 | 41 |   | 151 | 5th |
| Aaron Aylward | 41 | 33 | 27 | 40 |   | 141 | 11th |
| Caelan Ryan | 33 | 41 | 41 | 27 |   | 142 | =9th |
| Colm Tobin | 35 | 32 | 45 | 30 |   | 142 | =9th |
| Conal Conroy | 30 | 34 | 38 | 24 |   | 126 | 14th |
| Elizabeth Moloney | 32 | 28 | 47 | 43 |   | 150 | =6th |
| Jack Conroy | 28 | 27 | 39 | 45 |   | 139 | 12th |
| Gavin Redmond | 0 | 43 | 37 | 29 | 0 | 109 | 17th |
| Tomás Lacey | 42 | 0 | 32 | 38 |   | 112 | 16th |
| Evan Wall | 0 | 37 | 43 | 34 |   | 114 | 15th |
| Sean Hahessy | 0 | 35 | 31 | 31 |   | 97 | 22nd |
| Cillian Power | 34 | 0 | 40 | 33 |   | 107 | 20th |
| Daniel Browne | 0 | 30 | 29 | 42 |   | 101 | 21st |
| Luke Conroy | 29 | 0 | 0 | 0 |   | 29 | 25th |
| James O' Hanlon | 0 | 26 | 50 | 32 |   | 108 | =18th |
| Ben Cooney | 0 | 0 | 25 | 50 |   | 75 | 23rd |
| Cian O' Keeffe | 39 | 31 | 0 | 0 | 0 | 70 | 24th |
|   |   |   |   |   |   |   |   |
|   |   |   |   |   |   |   |   |