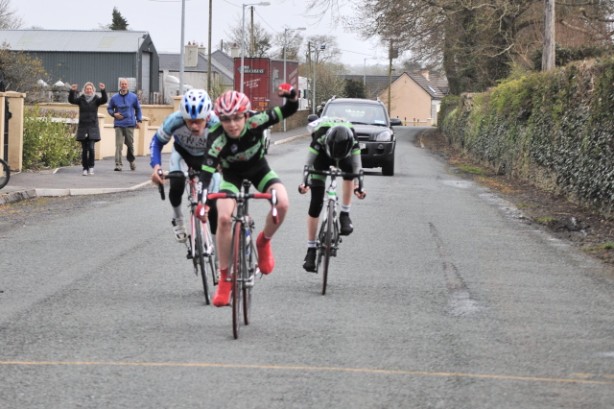 Ruairí Dunne took his first win in the colours of Iverk Produce Carrick Wheelers at the weekend, as he claimed the U16 crown at John Drum Memorial Cup in Currow, Co. Kerry. 
The race, which consisted of 6 laps of a six kilometre circuit, was dominated by an early breakaway as Dean Bradley of O'Leary Stone Kanturk CC, attacked the main field bringing with him his team-mate Conor Murphy, but more importantly the Iverk Produce Carrick Wheelers duo of Ruairí Dunne and Aaron Kearney.  This group worked together for the first three laps, opening a sizable advantage on the other contenders in the race and it became clear that the winner of this event would come from this quartet out in front. 
However, not content to give the Cork duo of Bradley and Murphy an easy route to the finish, Dunne of Iverk Produce Carrick Wheelers put in a blistering attack on the beginning of the fourth lap over the main hill of the circuit and was successful in distancing Corkman Conor Murphy from this group.  The now leading trio regrouped after the hill and the Iverk Produce Carrick Wheelers pair of Dunne and Kearney worked well with Kanturk's Dean Bradley until the final lap where things became a bit more of a tactical affair.  Noticing the block headwind on the finishing straight the Carrick Wheelers duo got their strategy spot on, as Kearney decided to take up an early sprint, with Dunne waiting in the wheels.  With Kearney beginning his sprint with 400m to go, Dunne waited patiently in the slip stream until the 200m mark before unleashing his effort to take the victory.  Kanturk's Dean Bradley finished in the runners-up sport with Aaron Kearney taking the final podium spot in third position.
So a great result once again for Iverk Produce Carrick Wheelers' underage squad, with a win and a podium finish in this historical event in the Kingdom County. 
Johnny Drumm Memorial Cup Currow, Co. KerryU16 Race
1st Ruairi Dunne, Iverk Produce Carrick Wheelers
2nd Dean Bradley Young, O'Leary Stone Kanturk
3rd Aaron Kearney, Iverk Produce Carrick Wheeler
4th Conor Murphy, O'Leary Stone Kanturk
5th David Desmond, Galtee Wheelers
6th Oran Pierse, Tralee BC Manor West